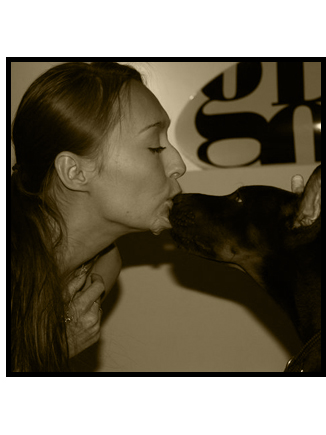 I used to not like spaniel type of dogs and I would have never thought that one day a little spaniel will become of love of my life.

:: It was until 2000 when I saw a Cavalier King Charles Spaniel for the first time. That time, I was thinking about buying a beautiful brown Doberman from one of the best breeders in Poland. However, after seeing a Cavalier, I decided I wanted to get that beautiful spaniel - a Cavalier King Charles Spaniel. My friends couldn't believe that!

I decided to get a boy, not necessary thinking about breeding at first. It was important for me to learn about the breed and having a boy and showing him, would be a perfect opportunity to learn and meet breeders. That would allow me to make connections so I would be able to find a high quality puppy bitch to start my own breeding program. I started my puppy boy search and I contacted the breeder, who started that breed in Poland in hopes to get a black & tan.

That time black & tan seemed to me the most beautiful color of Cavalier King Charles Spaniel. I even didn't think about tricolor! They looked to me almost ugly! The same with ruby color. I was so disappointed to learn wholecolour Cavaliers were not available in Poland. Therefore, I decided to get a blenheim boy and could not imagine that my fate would lead me to tricolor later.

:: After waiting of couple of months, in 2001, I got my first Cavalier King Charles Spaniel. It was a blenheim boy LE COEUR DE LA MER Kawalkada by Ch GOLIAT z Piastowskiego Wrocławia sired by Inter Ch and Multi Ch ISLAND HOPPER de Bhuronzov. His dam was an import from Estonia Ch Helandros JOSEPHINE. I also registered my kennel affix: Z Królewskiego Dworu (from Royal Court).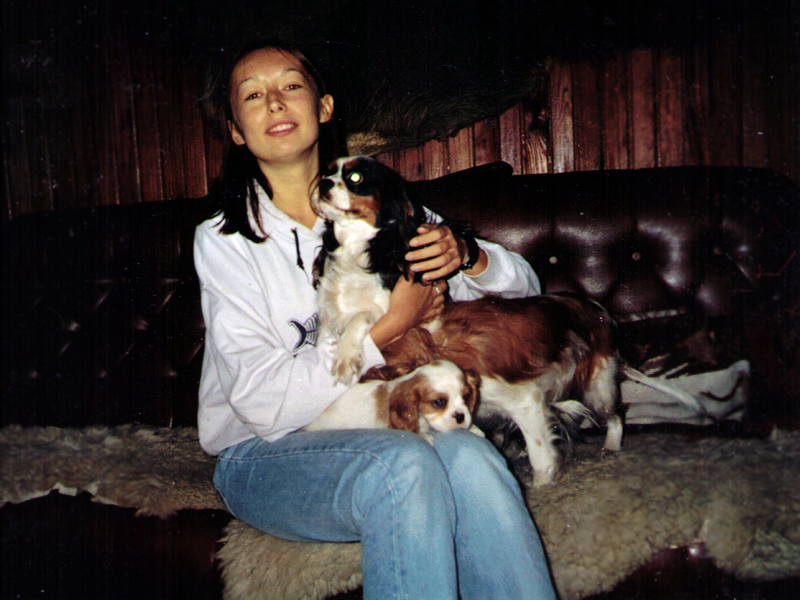 Ch LE COEUR DE LA MER Kawalkada was not a typical show quality dog. Despite that, he won many titles. He was a Junior Polish Champion, Junior Winner of Poland 2002, Junior Winner of Club 2002, then Polish Champion and Champion of Czech Club in 2006. He also received multiple CAC and Junior Winner titles. In 2002 he was second in Best of Group.

In 2008 he sired a blenheim boy CORAZÓN VALIENTE Maukochonia, however he had not produced any puppies for me.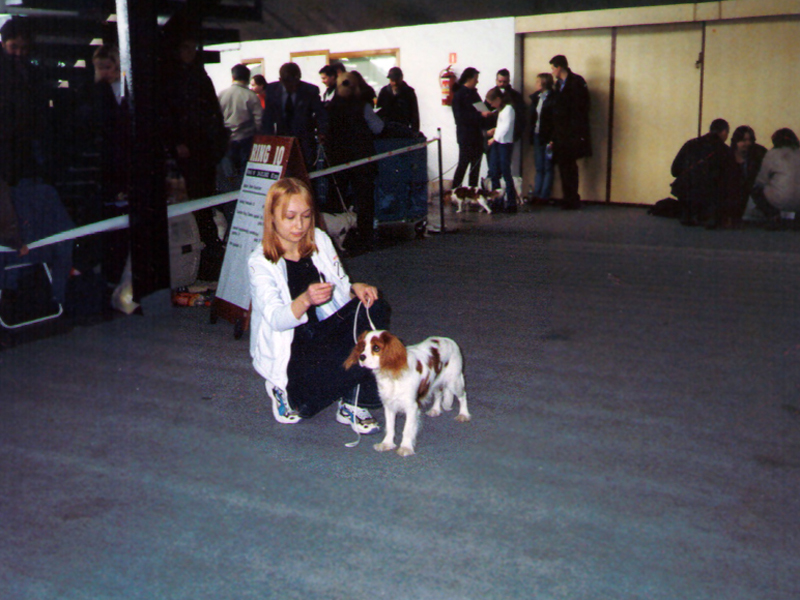 In 2002, at the International Dog Show, I met Ingrid, a breeder of "Biely Demon" from Slovakia. Her dogs Ch CAIRO Biely Demon, Ch IBERIA Biely Demon and Ch ITHALICA Biely Demon (by Ch Milkeyn MONARCH at LYMREY and Ch MERIEM Biely Demon) made big impression on me. I was especially taken by Ingrid's tricolor Cavaliers! As a young fancier, full of curiosity and enthusiasm, I felt in love in her tricolors and I started dreaming about a puppy by Milkeyn and Meriem but I knew it wouldn't be easy to get such a puppy. Later that year, I met another breeder Dorota of "Deep Forest" kennel. She just got a girl YEUEXETTE Biely Demon. She was by Milkeyn and Meriem - the dogs that I dreamt about. I decided to wait for a puppy from Deep Forest.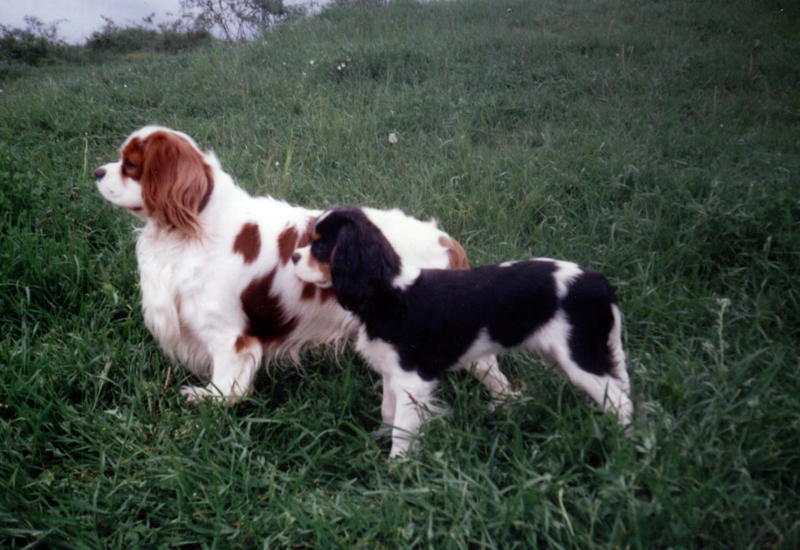 :: ASESINA CON UN DISFRAZ Deep Forest, arrived to me alter 2 years of waiting. She was a granddaughter of the dogs: Ch Milkeyn MONARCH at LYMREY and Ch MERIEM Biely Demon from the dam side (JCh YEUEXETTE Biely Demon) and she is sired by Ch Turretbank SPENCER.

Asesina started her show career in 2004 but she reached the top in 2007 when she finished Championships of Poland and then Romania and became a winner of Central and Eastern Europe 2007, Winner of Poland 2007, Winner of Transylvania 2007, Champion of Czech Club and Champion of Slovakia Club. In 2007, she also was awarded a title of Winner of Slovakia Club by Kevan Berry "Ricksbury".


In 2008, she finished a Slovak Championship with CAC awarded by Brian Rix "Ricksbury" and Per C. Knudsen of "Longbody's". She also become an Interchampion. Asesina became my foundation bitch and she is behind all dogs of z Królewskiego Dworu. She made me fall in love in tricolors even more.

:: In 2005, I met an extraordinary woman, full of love and enthusiasm - Barbara Guzinska, the breeder of "Armida" kennel in Bielsko Biała. Our friendship and cooperation in breeding started. I decided to have my first litter. After consultation with Barbara, I found a perfect match for Asesina - Ch ULTIMATE COLLECTION de Passeriphane, a beautiful tricolor from France.


:: In 2006, we had tree tricolor puppies. A boy AL-HATTAL DE MUNIQI z Królewskiego Dworu and two girls: A BURJ AL ARAB z Królewskiego Dworu and AY LA CUMBIA SABROSA z Królewskiego Dworu. We decided to keep Cumbia, who later become a Polish Champion. Next, Al-Hattal sired puppies in "Armida".

The same year, I noticed a beautiful tricolor puppy in Dutch kennel JuCi and fell in love with him. I decided that in future, I would like to have puppies sired by him and include him in my breeding program.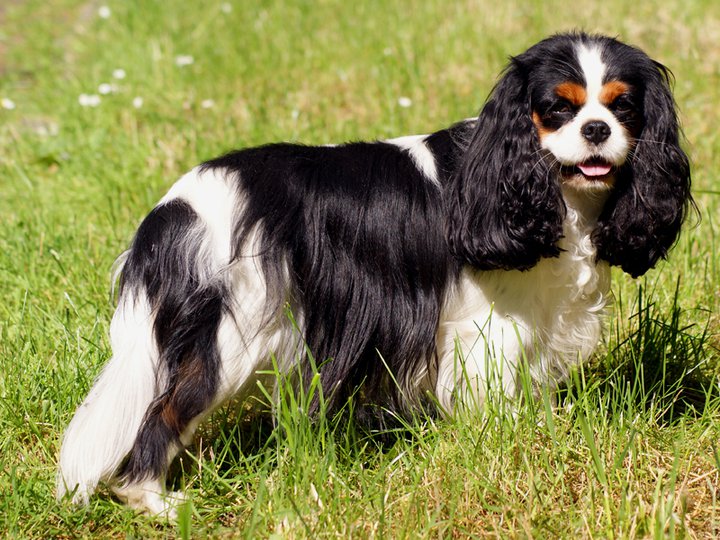 :: In 2008 I decided to pursue my dream of including Int & Multi Ch JuCi BACARDI RIGO in my breeding program. Since Asesina had been showed that time, I decided to mate her daughter Cumbia to Rigo. From that mating, I had a tricolor puppy MADONNA L.V.CICCONE z Królewskiego Dworu. Connie, who went to another breeder, became soon very successful in the show ring to prove that my destiny is to breed tricolor Cavaliers! Connie soon finished a Junior Polish Championship and then regular Polish Championship.






In 2008 Cumbia also finished her Polish Championship. The same year, I met Joanna Dziuba of "z Opolskiego Osiedla" kennel. She had had Cavaliers for many years but it just only then started thinking about breeding. Soon we started our cooperation, a next step in our friendship and love to Cavaliers...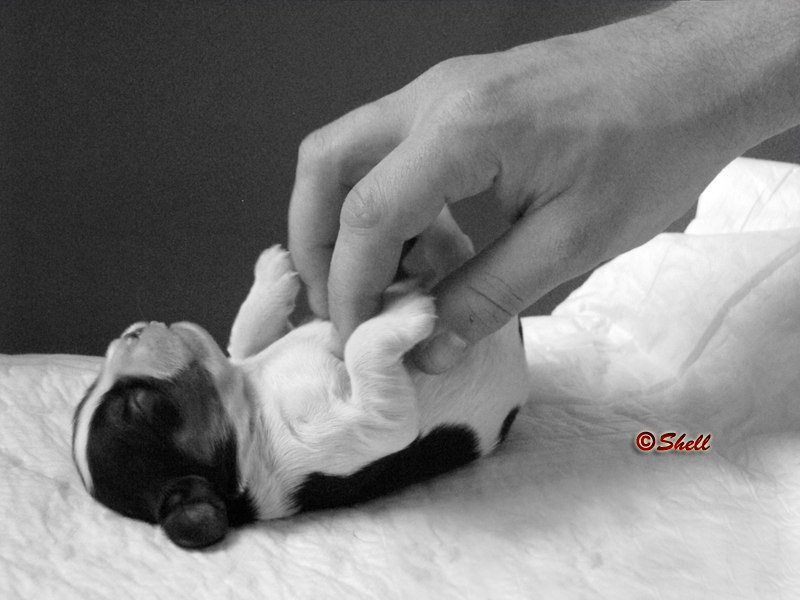 :: In 2003, at The National Show in, I met wonderful people: Inga and Mateusz of "Eszeweira" who that time, imported to a puppy by Ch Turretbank SPENCER. That puppy Int & Ch Rosebury JUSTIN THYME have had a significant influence on Polish Cavaliers population and have sired many very good puppies, even with bitches who were not the top ones. He also meant a lot of for my breeding program as he enable to line breed to Asesina. In march 2003, my third litter was born. Cumbia, the dam, had three tricolor puppy girls and one boy. VOLVERE Y SERE MILLONES, VIVAT MO CHUISLE and VOYAGE VOYAGE . Unfortunately, in a couple of days from when Cumbia had puppies, I lost my first Cavalier, my only Blenheim, my first champion, the boy who started my adventure with Cavaliers...

It was a very difficult time for me when I needed to focus on my puppies. From that litter, I kept sweet Volvere, who is my hope to replace her granddam in the show rings.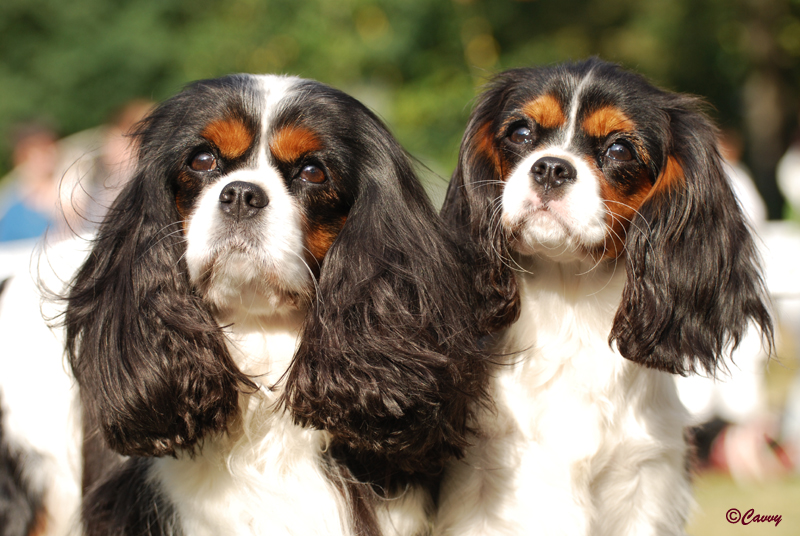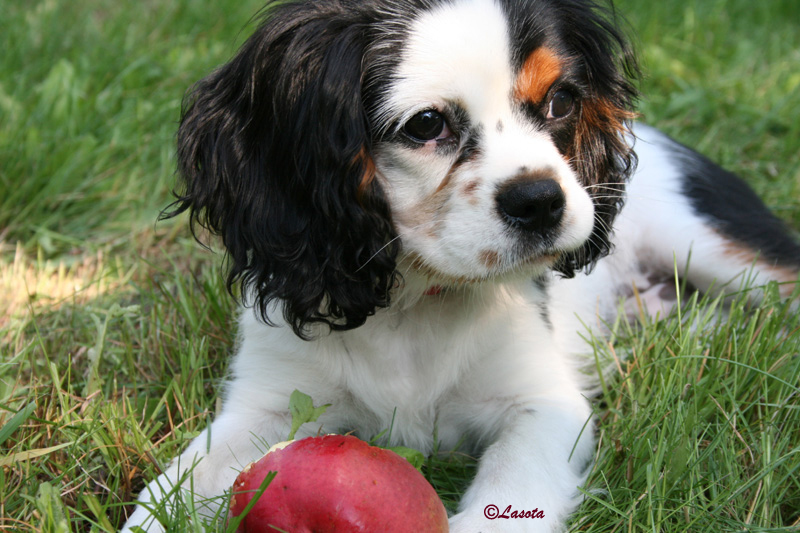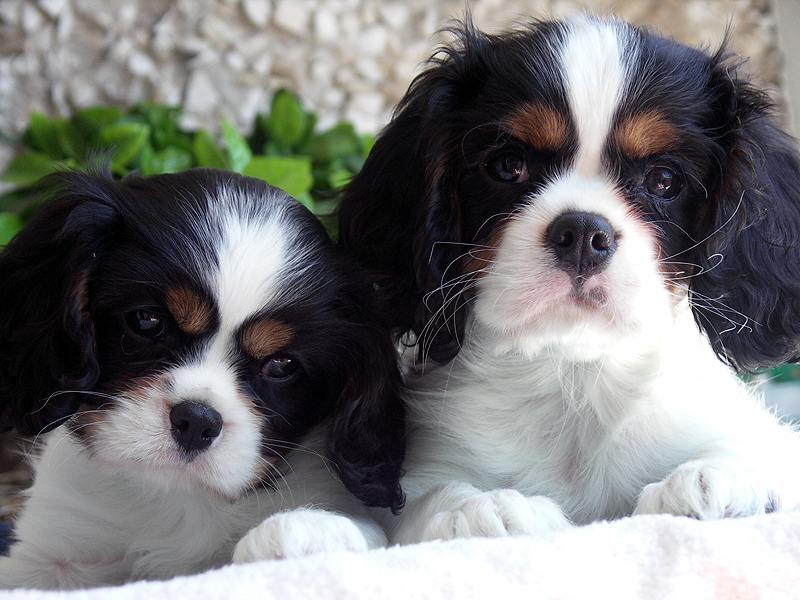 :: Year 2010 was a great year in my breeding program. It was a continuation of a great year 2007 when I showed Asesina in 13 shows across with the result of 13 CAC. In January 2010, thank to support of Joanna Dziuba, I went to to breed Asesina to Rigo. That was my dream breeding and planned since 2006! 10 days later, we went to to breed Cumbia with a beautiful Loranka's tricolor boy, a son of wonderful Loranka's ENCHANTING. In May, Cumbia gave me three tricolor girls by Ch Loranka's CHANEL PARIS: BIAŁA ARGENTYNA z Królewskiego Dworu, BEAUTY QUEEN OF ARGENTINA z Królewskiego Dworu and BLISKA SERCU ARGENTYNA z Królewskiego Dworu. The first one, called at home just Argentyna, stayed in Królewski Dwór and is co-owned and loved by Joanna Dziuba of "z Opolskiego Osiedla".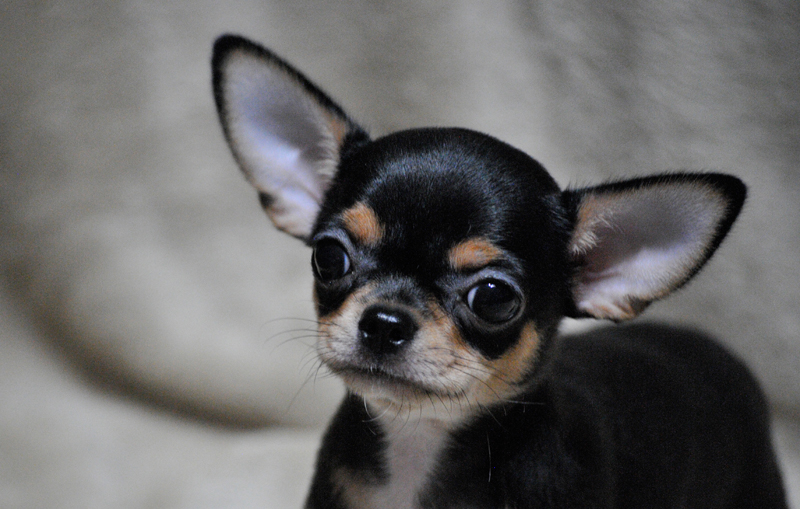 :: In 2020 a next breed - chihuahua (smooth coat) joined the kennel. Ekaterina Pepelyaeva from Russia entrusted us a black and tan girl, so we went back to the beginning, when looking for my first dog, I wanted to buy a black and tan Cavalier...



Aneta Jezierska
---