ASESINA CON UN DISFRAZ Deep Forest
" Asesina "


(Turretbank SPENCER & YEUEXETTE Biely Demon)
born: 09.12.2003
breeder: Dorota Nych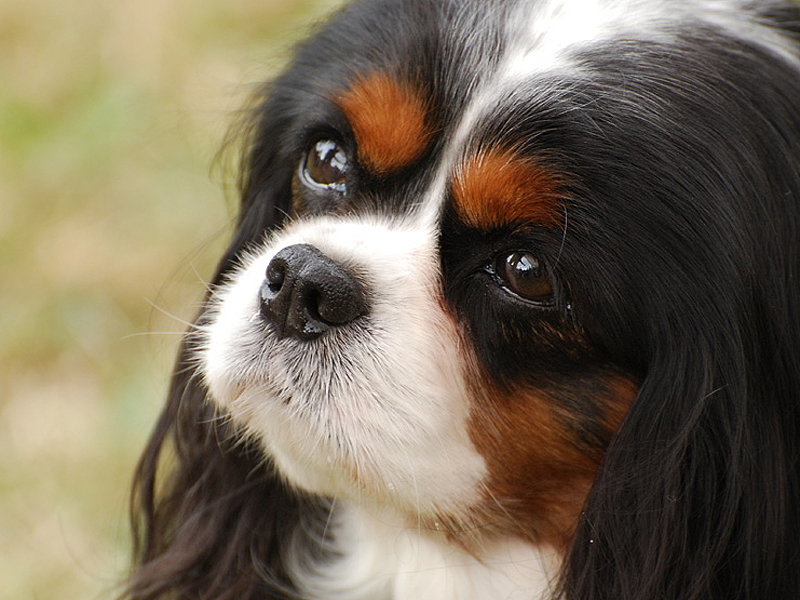 INTERCHAMPION
International Beauty Champion



Champion of Poland
Champion of Romania
Champion of Slovak

Champion Club of Slovak
Champion Club of Czech Republic 2007
Poland Winner - Poznań 2007
Transilvanian Winner - Arad 2007
Club Winner Slovak - Bratislava 2007
Middle and Eastern European Winner - Poznań 2007

5x CACIB
2x res.CACIB
Junior Winner
23x CWC (CAC)
5x Best of Breed (BOB)
12x Best Adult Bitch (BOS)
Best Tricolor Bitch - Bratislava 2007
Best Tricolor Bitch - Bratislava 2008
Winner Champion Class - Cavikada 2008

Best Bitch in Poland 2007
(ranking show cavalierworld.eu)

[09.12.2003 - 14.05.2013]
---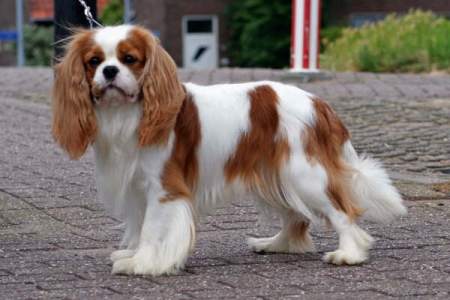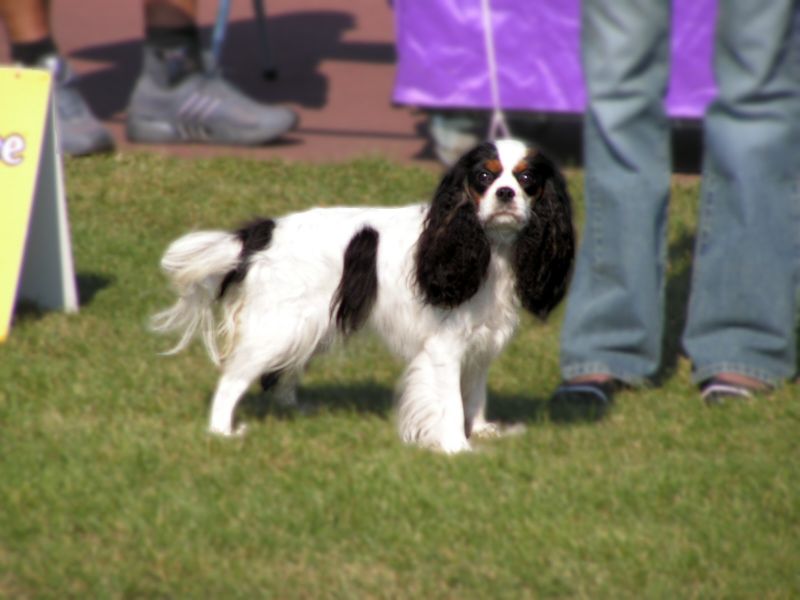 Turretbank SPENCER & YEUEXETTE Biely Demon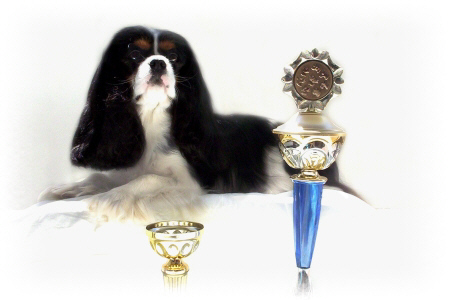 * * *
"Very glamorous tricolour, lovely shiny silky coat in good condition. Attractive head, nice dark eye with no white showing, plenty tan marking. Good firm hind quarters, weel turn of stifle looked good moving, good top line, good tail carriage."

Jocelyn Inman Cunningham "Chamanic"


"The perfect breed representant with beautiful head."

"Overall excellent in exterier."

Jerzy Olszewski
"Sylena FCI"

"1st class tricolour. Real glamour girl, super silky coat, plenty of feathering,
sweet soft expression , correct bite, front etc. Good body, stee
p croup, straight real happy on the move. Not very strong behind."

Hans Boelaars "Lamslag"

"A lovely bitch beautifuly presented, lovely head, framed by the lovely long ears, good neck and shoulder, nice top line, good size, all the good characteristics of the breed."

Keven Berry "Ricksbury"


"Nice shape and size, good coat and condition, nice topline, well angulated, good bone for size, very pretty head, good tan markings, showed very well."

Marilyn Claydon "Brymarden"

"Glamour headed. Large round dark eyes giving a soft and gentle expression. Good pigment. Long silky ears. Level back. Glamour Cavalier. Exellent."

Brian Rix
"Ricksbury"

* * *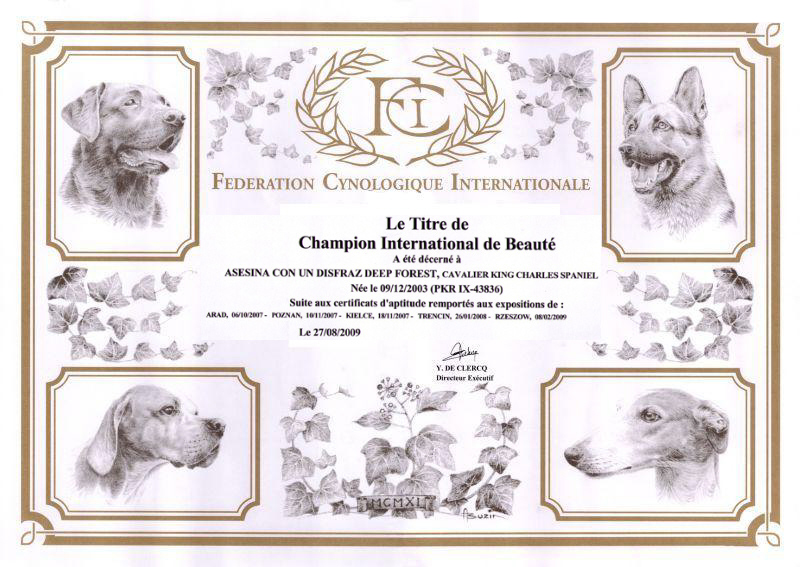 21.11.2004 "CAC Kielce" - Junior Winner (Krystyna Opara /PL)
07.05.2005 "CLUB CKCS Bratislava" - V2 (TR) (Jocelyn I.Cunningham "Chamanic"/GB)
21.05.2006 "CAC Radom" - CWC, Best Adult Bitch + BOB (Wanda Kowalska /PL)
11.06.2006 "CAC Lublin" - CWC, Best Adult Bitch + BOB (Wanda Kowalska /PL)
09.07.2006 "CACIB Warszawa" - CWC (Elżbieta Junikiewicz /PL)
12.11.2006 "CACIB World Dog Show Poland" - excellent (Martha Heine /D)
27.01.2007 "CAC Głogów" - CWC (Jerzy Olszewski "Sylena FCI" /PL)
04.02.2007 "CAC Rzeszów" - CWC, Best Adult Bitch (Wanda Kowalska /PL)
10.02.2007 "CAC Bydgoszcz" - CWC, Best Adult Bitch (Jerzy Olszewski "Sylena FCI" /PL)
06.05.2007 "CACIB Łódź" - CWC, res. CACIB (Olga Dolejsova /CZ)
20.05.2007 "CAC Radom" - CWC, Best Adult Bitch + BOB (Elżbieta Junikiewicz /PL)
26.05.2007 "CLUB CKCS Bratislava" - CAC, Club Winner (Kevan Berry "Ricksbury" /GB)
03.06.2007 "CACIB Leszno PRESTIGE" - CWC (Pichard Laurent /CH)
10.05.2007 "CAC Lublin" - CWC, Best Adult Bitch + BOB (Elżbieta Junikiewicz /PL)
06.10.2007 "CACIB Arad TRANSILVANIAN WINNER CUP" - CAC, CACIB (Jean Blajino /FR)
06.10.2007 "CLUB Arad EXPO CLUB CCAR" - CAC (Makaritis Stelios /GR)
07.10.2007 "CACIB Arad OPEN ROMANIA" - CAC, res.CACIB (Cristian Stavarache /RO)
10.11.2007 "CACIB Poznań THE M&E EUROPEAN CUP" - CWC, CACIB, Best Adult Bitch + Poland Winner & M&E European Winner 2007 (Aleksandra Świsulska /PL)
18.10.2007 "CACIB Kielce" - CWC, CACIB, Best Adult Bitch (Zivile Povilaitiene /LT)
26.01.2008 "CACIB Trenčin" - CAC, CACIB, Best Adult Bitch (Vondrous Otakar /CZ)
26.04.2008 "CLUB CKCS Dubova" - CAC, Best Tricolor (Brian Rix "Ricksbury" /GB)
17.05.2008 "CAC Katowice - Cavikada" - CWC (Marilyn Claydon "Brymarden" /GB)
13.09.2008 "SPEC. CKCS Dubova" - CAC (Per C. Knudsen "Longbody´s" /DK)
08.02.2009 "CACIB Rzeszów" - CWC, CACIB + BOB (Hans Bierwolf /AT)
26.04.2009 "CLUB IX FCI Opole" - CWC (Kitty Sjong /DK)
04.10.2009 "CAC Rybnik" - CWC (Wanda Kowalska /PL)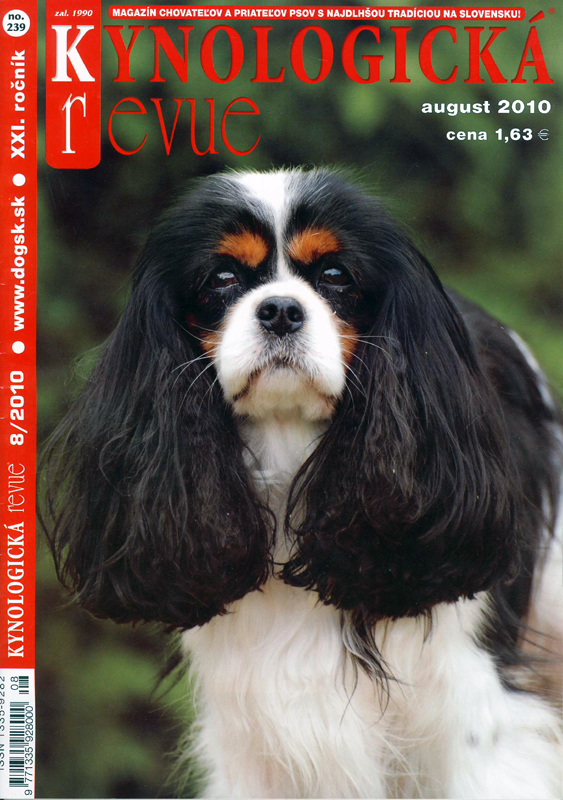 ---
PROGENY


"A" z Królewskiego Dworu 2006 - CH AY LA CUMBIA SABROSA


"A" z Królewskiego Dworu 2006 - AL-HATTAL DE MUNIQI


"A" z Królewskiego Dworu 2006 - A BURJ AL ARAB

"K" z Królewskiego Dworu 2010 - CH KANDINSKY

---