DEATH ON TINY WHEELS z Królewskiego Dworu
" Bambi "


(CHAPLIN Prokopská hvězda & MINA A. MAZZINI z Królewskiego Dworu)
ur. 02.04.2017
hod: Aneta Jezierska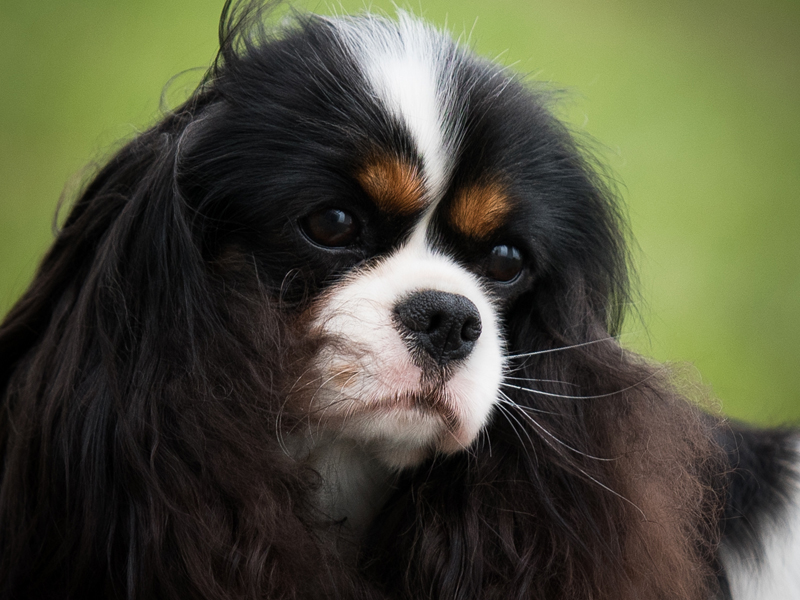 INTERCHAMPION
International Beauty Champion



Junior Champion of Poland
Champion of Poland
Grand Champion of Poland

Champion of Slovakia
Champion of Czech Republic
Champion of Belarus
Champion of Croatia
Champion of Lithuania
Champion of Latvia
Champion of Estonia
BALTIC CHAMPION
German Champion VDH

Club Winner (CZ) - Kutna Hora 2018
Best in Show - Cavikada 2019


34 CWC (CAC)
2x res.CAC
2x Anw. Dt. Ch. VDH
2x res.Anw. Dt. Ch. VDH
6x CACIB
2x res.CACIB
5x Junior Winner
4x Best Junior (BOJ)
11x Best of Opposite Sex (BOS)
5x Best of Breed (BOB)

Best Junior (BOJ) - Cavikada 2018
Best Junior (BOJ) - Special CKCS Show - Dneboh (CZ) 2018
Best of Opposite Sex (BOS) - Special CKCS Show - Dneboh (CZ) 2018
Best Female Tricolor - Club CKCS - Kutna Hora (CZ) 2018
Best Female Tricolor - Club CKCS - Rakovnik (CZ) 2019
Best Female Champion of Champion's Show - Leszno (PL) 2019
Best of Breed - Club CKCS - Kutna Hora (CZ) 2019
Best of Breed - Cavikada 2019
Best Female II - Special CKCS & KCS Show - Riga (LV) 2019
Best in Show V - Special 9FCI Show - Grodno (BY) 2020
Best in Show 5 - Specialistyczna 9FCI - Grodno (BY) 2020
The Best Couple (with My Heart of Diamonds Yellow Sunshine)
- VII Świętojańska Wystawa Psów Ozdobnych i do Towarzystwa - Wrocław (PL) 2021
2nd Best In Group - National FCI 9 gr. / Katlakalns, Adinas, (LV)

Heart (06/2022)


Eyes (11/2019) + Certificate


Patella Luxation


HD- A/A free of dysplasia


Episodic Falling - clear


Curly Coat and Dry Eye Syndrome - clear
---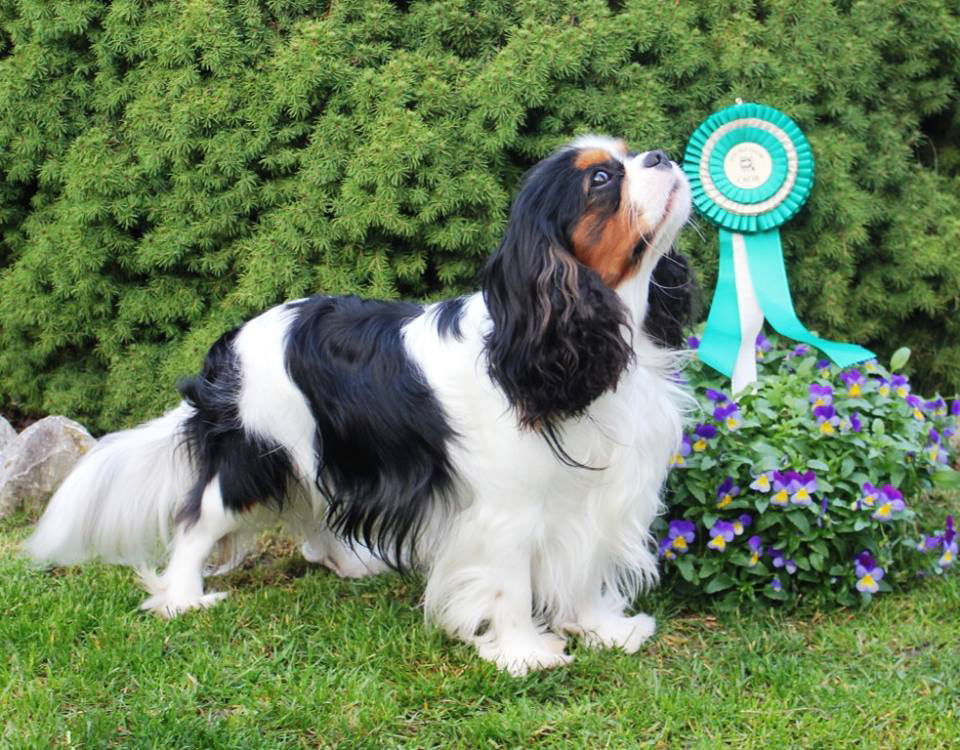 CHAPLIN Prokopská hvězda & MINA A. MAZZINI z Królewskiego Dworu


* * *
"Very elegant tricolor, well broken with some tickling, very pretty head with kind eyes and good expression, moderate neck and too well laid shoulders, good spring of ribs and short coupled body, exc topline and tail set, carried herself, elegantly around the ring, good temperanemet. "

Michael Hegarty "Chantismere"


"Tricolor bitch of ideal size. Lovely angles front and behind, good reach of neck, level topline, good tail, moved very soundly, feminine in head with dark eye. Level bite, would prefer the white to not show ticking, quality bitch."

Scheena Maclaine "Pennygown"

"Lovely tricolor. Beautiful head with lovely eyes and expression. Well set carried ears framing her face. Lovely neck and shoulders, leading to a short level back. Good spring of ribs. Exc kind angulation with short hock and well set tail. Lacking much tan and bite level. Moved really well with lovely reach holding a great top line and carring her tail well."

Lucy Koster "Harana"

"14 months, lovely size and well developed in body with veryattractive marking, coat presentation lovely, soft texture, good lenght, weel balanced outline with pleasing angulation in front and rear, a firm topline, pleasing, head qualities, good nose and pigment, and teeth. Correct balance of scull to muzzle, eyes dark but could be bigger. Very steady on the move, particularty good in the rear and profile presents a very pleasing outline with ideal tail carriage."

Gordon Inglis "Craigowl"


"Gorgeous well matched tricolor bitch, presented to perfection, lovely head, eyes and expression, great neck and shoulders, and topline, good angulations, moved to perfection with great request drive".

Lorraine Hughes "Loranka's"

"Very eyecatching tricolor 14 months. Super size, presentation excellent, felt good on the table, all paws blending together, feminine expression, good eyes, good earset, show clean outline, very good going away, good topline, top quality exhibit."

Norma Inglis "Craigowl"

* * *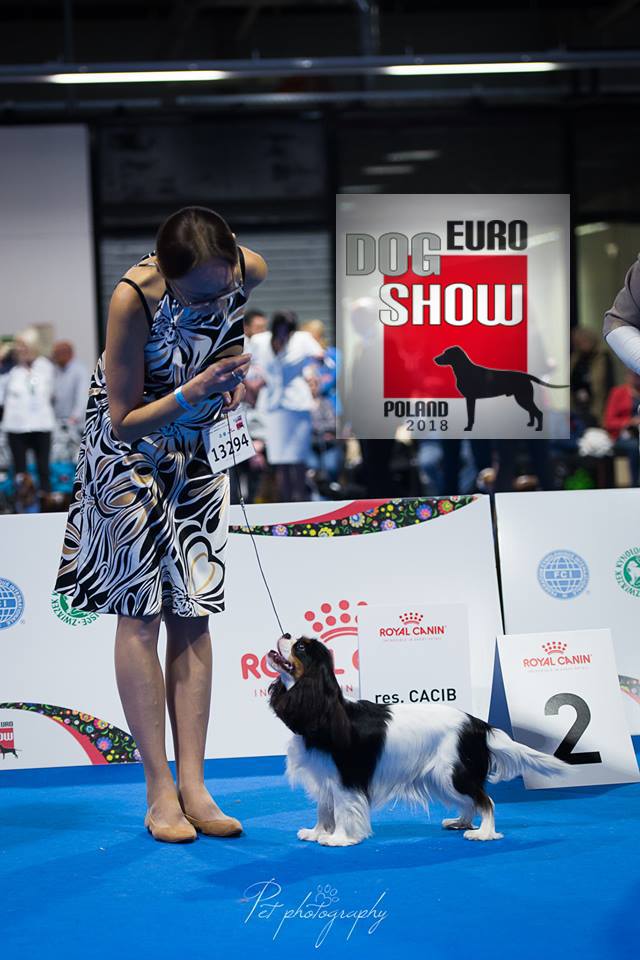 ---
POTOMSTWO


"P" z Królewskiego Dworu 2020 - P.S. NO TIME TO DIE


"P" z Królewskiego Dworu 2020 - P.S. TOMORROW NEVER DIES


"P" z Królewskiego Dworu 2020 - P.S. FROM RUSSIA WITH LOVE


"P" z Królewskiego Dworu 2020 - P.S. THE WORLD IS NOT ENOUGH

---
14.04.2018 "CLUB CKCS Pezinok" - V2 (TR) (Michael Hegarty Chantismere /GB)
22.04.2018 "CAC Zakrzów" - I Junior Winner, Best Junior + BOB (Rafał First /PL)
19.05.2018 "Cavikada - Chorzów " - I Junior Winner, Best Junior (Lucy Koster "Harana"/GB)
02.06.2018 "CLUB CKCS Dheboh" - I CAJC (Gordon Inglis "Craigowl"/GB)
03.06.2018 "SPEC CKCS Dheboh" - I CAJC, Best Junior + BOS (Norma Inglis "Craigowl"/GB)
16.06.2018 "CAC IX FCI Kraków" - I Junior Winner, Best Junior (Monika Kuriata-Okarmus/PL)
29.07.2018 "CACIB Zakopane" - I CWC, CACIB + BOS (Rafał First /PL)
01.09.2018 "SPEC. CKCS Pezinok" - I CAC (TR) (Ann GILL /GB)
15.09.2018 "CLUB CKCS Kutna Hora" - I CAC, Best Female Tricolor, Best Adult Bitch - Club Winner 2018 (Sheena Maclaine "Pennygown" /GB)
22.09.2018 "CAC IX FCI Zielona Góra" - I CWC (Krzysztof Kania /PL)
14.10.2018 "Euro Dog Show Warszawa" - V2 (Roberto Velez Pico /PR)
24.02.2019 "Champion's Show - Leszno" - I CWC + Best Bitch (Luis Catalan /PR)
20.04.2019 "CLUB CKCS Pezinok" - I CAC (TR) (Kirstie McMurray /UK)
12.05.2019 "CACIB Łódź" - I CWC + res.CACIB (Magdalena Kozłowska/PL)
25.05.2019 "CACIB Leszno PRESTIGE" - I CWC (Andrzej Kazimierski/PL)
26.05.2019 "CLUB CKCS Kutna Hora" - Best of Breed (Cesar Cortez "Loncor Cavaliers" /GB)
08.06.2019 "Cavikada Chorzów " - Best in Show (Lorraine Hughes "Loranka's"/GB)
09.06.2019 "CACIB Bytom" - I CWC, res.CACIB (Fallon Clodagh /IE)
05.07.2019 "CACIB Wisła" - I CWC, CACIB + BOS (Janusz Opara /PL)
06.07.2019 "CACIB Vel'ka Ida" - I CAC (Danijel Boros-Devi /RS)
07.07.2019 "CACIB Vel'ka Ida" - I CAC, CACIB + BOS (Anna Rogowska/PL)
27.07.2019 "SPEC. CKCS Hennigsdorf" - V2 res.CAC, res.Anw. Dt. Ch. VDH (Miyuki Kotani "Rathbrist" /IRL)
10.08.2019 "SPEC. CKCS & KCS Riga" - Best Female Tricolor + CAC & Best Female II (Roger Madec "de la Géode", Alix Jauffret "Passeriphane" /FR)
11.08.2019 "CAC Riga" - Best Female CAC + BOS (Zoja Olejnikova /UA)
24.08.2019 "CACIB Leipzig" - I CAC, Anw. Dt. Ch. VDH + CACIB & BOS (H.Assenmacher-Feyel /DE)
25.08.2019 "CACIB "German Winner" Leipzig" - V2 res.CAC, res.Anw. Dt. Ch. VDH + res.CACIB (Klaus Vorderstrasse /DE)
19.10.2019 "CLUB CKCS Rakovnik" - CAC, Best Female Tricolor (Kevan Berry "Ricksbury" /GB)
20.10.2019 "SPEC. CKCS Rakovnik" - CAC (Brian Rix "Ricksbury" /GB)
30.11.2019 "CACIB Prague" - CAC (Naděžda Klírová /CZ)
01.12.2019 "CACIB Prague" - CAC (Zdenka Jílková /CZ)
07.12.2019 "CACIB Kassel" - CAC, Best Adult Bitch + BOS (Michael Levy "Pascavale" /GB)
08.12.2019 "CACIB Kassel" - CAC, CACIB, BOS (Mark Smith "Aranel" /GB)
22.02.2020 "SPEC.9FCI Grodno" - CAC, BOB, 5BIS (Aleksandr Shishkin /BY)
22.02.2020 "CAC Grodno" - CAC (Galina Strelkova /BY)
08.08.2020 "CAC Strausberg" - CAC, Ant. Dt. Ch. VDH (Erwin Deutscher /DE)
09.08.2020 "CAC Strausberg" - CAC, Ant. Dt. Ch. VDH (Jochen Eberhardt /DE)
20.06.2021 "CAC Łódź - CAC (Krzysztof Kania /PL)
27.06.2021 "CAC Wrocław - CAC, BOS (Harry Vella "Dermickleover" /MT)
22.07.2021 "CAC Split - CAC (Draganescu Marian /RO)
23.07.2021 "CACIB Split - CAC (Torbjörn Skaar /SE)
24.07.2021 "CAC Split - CAC (Suzana Simon /HR)
25.07.2021 "CACIB Split - CAC (Jose M. Doval /ES)
08.08.2021 "CACIB Druskininkai - CAC, CACIB, BOS (Jakub Kruczek /PL)
14.08.2021 "SPEC. CKCS Estonia - 2nd Best Female Tricolor (David J Moger /UK)
15.08.2021 "CAC 9FCI Katlakalns, Adinas - CAC, BOB, 2BOG (Inese Pablaka /LV)
09.07.2022 "CLUB CKCS Nectiny - I CAC (TR) (Fabienne Auquiert "des Conteomplations" /FR)
10.07.2022 "CLUB CKCS Nectiny - I CAC (TR) (Guillaume Tytgat "de Bettignies") /FR)